Juice Plus Website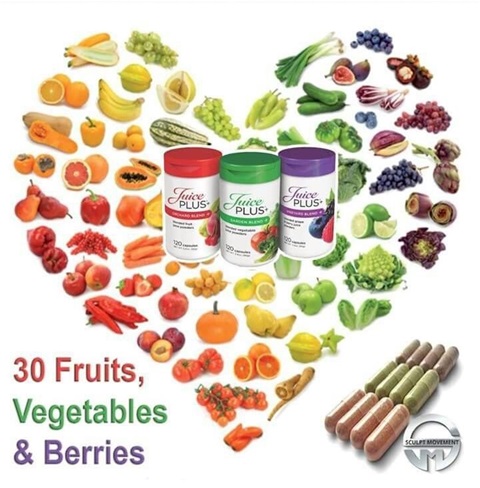 Intereastd in ordering or learning more. Check out my Website @
Next Best thing
Next Best Thing To Fruits and Vegetables
Juice Plus+ products are made from the juice powder concentrates and oils from more than 40 different fruits, vegetables and grains. While Juice Plus+ isn't a substitute for eating fruits and vegetables, our whole food-based products support a healthy diet by offering a much wider variety of naturally occurring vitamins, along with antioxidants and phytonutrients found in fruits and vegetables. Every Juice Plus+ product is made from quality ingredients grown farm fresh, providing the natural nutrients your body needs.
Juice Plus Bennefits
THE BENEFITS OF WHOLE FOOD BASED NUTRITION
Importance of a Healthy Diet
The best way to reduce your risk of disease is to eat healthy. The right fuel in your body makes it run better. Fruits and vegetables are two key food groups known to contribute to better health. Juice Plus+ puts more of the valuable nutrition from fruits and vegetables back into your diet to improve health and wellness. Give yourself a better diet and a healthier lifestyle. Try Juice Plus+.
What's Missing from Your Diet??
Add What's Missing From Your Diet
We all know there is a gap between what we should eat and what we actually do eat. Juice Plus+ provides nutrition from fruits and vegetables, as well as grains, plants and algal oils, to help you bridge the gap to a healthy lifestyle.
FROM FARM TO CAPSULE, HOW JUICE PLUS+ IS MADE
FARM FRESH NUTRITION
Juice Plus+ starts with farm fresh nutrition. Each capsule and chewable is the product of high-quality plants and seeds, well-cultivated fields and orchards, and the best fruit and vegetable farmers. After our fruit and vegetable varieties are grown, harvested, cleaned, juiced, and dried, they are blended into nutritious Juice Plus+ products that are part of a healthy diet.
Want to know where your Juice Plus+ nutrition comes from?
FAMILY FARM GROWN
Locally Grown Fruits and Vegetables for the Best Quality Nutrition
We start with farm fresh produce – the highest quality fruits and vegetables we can find. We work wherever possible with midsize family farms run by some of the best fruit and vegetable farmers in North America, which helps us provide the best quality nutrition. We inspect farming operations – from the process of handpicking to the natural control of weeds and insects – to make sure we deliver the best quality nutrition so you and your family can experience the healthful benefits of Juice Plus+
CAREFULLY PRESERVED
We Carefully Preserve them after Harvest For The Best Nutrition
Fruits and vegetables lose much of their nutritional content when they're picked early and shipped long distances. We solve that problem by locating our juicing and drying facilities as close to our farmers as possible. Where that's not close enough, we utilize a process called Individual Quick Freezing (IQF) to ensure the freshness of each fruit and vegetable.
Once the produce has been harvested and cleaned, it goes through our proprietary Juice Plus+ juicing and drying process.
We start with whole food.

We juice the whole fruit or vegetable, including peels,
leaves and seeds, whenever possible to harvest the
greatest amount of nutrients.

We don't shortcut the drying process, like others do.
NSF CERTIFIED
Expert-Tested and Expert-Approved To Ensure The Best Nutrition
Careful testing and independent experts ensure the natural purity of our finished products. Juice Plus+ is produced at state-of-the-art facilities that meet or exceed highest food industry standards for blending, encapsulating, and packaging. Our standards are reviewed and our facilities inspected by NSF the public health and safety company. Not-for-profit NSF also inspects and certifies our products, as confirmed by the NSF seal on every Juice Plus+ bottle or pouch. As NSF-certified products, all Juice Plus+ products undergo independent testing that ensures they meet and exceed strict guidelines and deliver only the best quality nutrition.